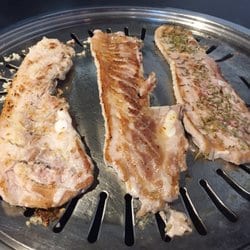 Pork products recalled in seven states for possible food poisoning
Guymon Extracts is recalling over 4,000 pounds of fully cooked pork products that have been distributed in seven states across the US. The recall is due to a processing deviation that may have allowed the growth of botulism in the pork.
Food safety issues such as processing protocols can lead to food poisoning issues such as this one. Guymon Extracts is recalling 4,202 pounds of product that was distributed in Florida, Georgia, Illinois, Texas, Washington, California, and Colorado. The recalled products bear the establishment number "Est. 32161" inside the USDA mark of inspection.
The processing deviation involved in producing the fully cooked pork products may have allowed the growth of spores that can cause botulism. Symptoms of botulism in food products that have been consumed include difficulty swallowing or speaking, dry mouth, facial weakness on both sides of the face, blurred or double vision, drooping eyelids, trouble breathing, nausea, vomiting, abdominal cramps, and paralysis.
These products are subject to the recall by Guymon Extracts, as announced by U.S. Department of Agriculture's Food Safety and Inspection Service: 2.2 lb. – 10 polybag pillows packed in paper cartons containing "Pork Soup with Rendered Pork Fat (from bone)" with lot code 010218-1, a product code of 61306 and a best before date of Dec. 22, 2019. Consumers who have purchased these products should not eat them, to avoid potential food poisoning by botulism.
For more information about botulism, the pork product recall, or food safety, please contact the food poisoning lawyers at 1-888-335-4901.