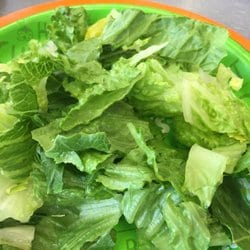 FDA releases statement on romaine lettuce contamination
The e. coli outbreak that caused 210 illnesses, 96 hospitalizations, and 5 deaths among consumers who had eaten romaine lettuce has come to an end. The last illness onset was reported on August 2, 2018. However, now that the growing season is underway again in the Yuma, Arizona, area the potential for future contamination remains an issue for which consumers should stay alert and informed.
The commissioner for the Food and Drug Administration (FDA) released a statement on November 1, 2018, about the cause of the e. coli outbreak and the FDA's plan to investigate future outbreaks. The FDA commissioner stated that an environmental assessment had been conducted that confirmed the presence of E. coli O157:H7 in three samples of irrigation canal water in the Yuma lettuce growing region.
The most likely way the romaine lettuce became contaminated was from the use of water from the irrigation canal, since the outbreak strain was not found in any of the other samples collected in the region. The FDA concedes that they do not know how the water contaminated the lettuce. Based on interviews with growers and pesticide applicators, possible explanations include direct application of irrigation canal water to the lettuce crop or the use of irrigation canal water to dilute crop-protection chemicals applied to the crops through both aerial and land-based spray applications.
Contaminated romaine lettuce was distributed across the US. The states affected by food poisoning cases directly related to e. coli contamination included: Alabama (3), Alaska (8), Arkansas (1), Arizona (9), California (49), Colorado (3), Connecticut (2), Florida (3), Georgia (5), Idaho (12), Illinois (2), Iowa (1), Kentucky (1), Louisiana (1), Massachusetts (4), Michigan (5), Minnesota (12), Mississippi (1), Missouri (1), Montana (9), Nebraska (1), New Jersey (8), New York (11), North Carolina (1), North Dakota (3), Ohio (7), Oklahoma (1), Oregon (1), Pennsylvania (24), South Dakota (1), Tennessee (3), Texas (4), Utah (1), Virginia (1), Washington (8), and Wisconsin (3).
If you were impacted by contaminated romaine lettuce, contact the food poisoning lawyers at 1-888-335-4901 to learn more about your legal options.