Cutting Boards and Proper Sanitation:
The long debate continues as to which is safer, plastic or wooden cutting boards. The answer depends.
Bacteria can grow in many environments ranging from aerobic to anaerobic. Some common facultative pathogens (capable of growing in both oxygen rich and oxygen void environments) are primary suspects of contaminated cutting boards.
Whether the board is plastic or wooden, deep cuts in the material create the perfect housing environment for bacteria to grow and multiply. Every time food, be it meat, poultry, or produce, is cut, small particles of food are pushed into the crevices of the boards surface. Inside these crevices, facultative bacteria like Campylobacter and Salmonella enterica have the conditions to grow and multiply.
According to the CDC, symptoms of a Campylobacter infection include "diarrhea (often bloody), fever, and abdominal cramps" and "diarrhea may be accompanied by nausea and vomiting" (CDC.gov/campylobacter)[1]. The CDC also reports the symptoms of an infection from Salmonella enterica may cause "diarrhea, fever, and abdominal cramps 12 to 72 hours after infection," and the CDC reports "the illness usually lasts 4 to 7 days, and most persons recover without treatment" (CDC.gov/salmonella)[2]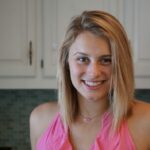 Plastic boards are easier to sanitize the surface, but wooden boards are harder and are less likely to get crevices in the first place. By cleaning an old cutting board with cuts and nicks with a sponge and soapy, hot running water, there is still the concern the board's deep cuts are housing harmful bacteria.
Even running a very damaged cutting board through the sanitation cycle of a household dishwasher may not be enough to fully sanitize the cutting board. The Clorox website is a great place to learn how to properly clean a cutting board:
Remove materials and buildup by using some dish detergent and hot water.
Prepare a solution of about 2 teaspoons of chlorinated bleach to about 1 gallon of water.
Soak cutting boards in the diluted bleach solution for at least two minutes.
Rise with hot water.
Let cutting board air dry.
For a video check out https://youtu.be/Lov7kGt1KhE
The bottom line is an old, cracked cutting board needs to be retired. The benefit of disposing of a contaminated cutting board outweighs the benefits of continual use, especially if it means protecting those around you from a food-borne illness.
[1] https://www.cdc.gov/campylobacter/symptoms.html