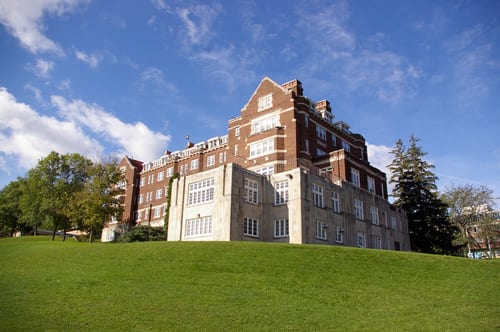 About 25 students at Carleton College have fallen ill with norovirus. The outbreak comes during a season that has included outbreaks at Universities across the US, including outbreaks at Berkeley, the University of Minnesota, Oregon State University, the University of Rochester, and the University of Michigan, among others.
Carleton Outbreak Linked to Local Café
The Carleton outbreak differs from the other outbreaks on college campuses this spring in one important way: this outbreak has been linked to one local eatery, Hogan Brothers' Acoustic Café.
The restaurant, while not required to do so, voluntarily closed over the weekend. The purpose of the closure: to clean and "look into" the situation.
The café reopened today after the short closure.
Minnesota Department of Health Investigating
According to local news outlets, the Minnesota Department of Health reports that 22 students from Carleton College have fallen ill since last Saturday. Officials from the Department of Health did not immediately respond to FoodPoisoningNews' request for comment.
Carleton College Responds
For its part, Carleton College, located in Northfield, Minnesota, has initiated a response to the apparent outbreak as well.
The college requests that not just students – but staff and faculty as well – report their illness to the college via an online submission form if they have been experiencing symptoms for a period exceeding 24 hours.
The college requests that students refrain from contacting Student Health and Counseling if they have been experiencing symptoms for less than 24 hours.
Additionally, the college released an "Infectious Disease Update" on their website, stating that a "number of students (around 20-25)" reported nausea, vomiting and diarrhea in recent days.
The college informed its students that the symptoms were characteristic of norovirus, and that based on information the university had, it was "very unlikely that the illness is related to food served in any of the Carleton dining facilities."
Subsequent information indicates that the outbreak illness is linked to Hogan Brothers' Acoustic Café.
Restaurant-Based Norovirus Outbreaks on Campus
In contrast to the majority of norovirus outbreaks on campus, which originate with one or two infected students and spread quickly due to the close living quarters and constant interaction between students, this outbreak more closely resembles the Boston College norovirus outbreak that occurred in the winter of 2015.
The Boston College outbreak was ultimately linked to consumption of Chipotle from a single on-campus restaurant.
In these cases, the most common source of the illness is an employee who reports to work despite feeling ill. When the contaminated worker handles food, the virus – which is very easy to spread and contract – causes the people who eat at the restaurant during that time to become ill. While not every person will become sick, there generally will be enough cases to trace the illness to a single source.
If you became ill after eating at Hogan Brothers' Acoustic Café or have otherwise been affected by food poisoning, please fill out our free case evaluation form or call us toll-free at 1-888-335-4901. One of our attorneys will contact you to discuss your potential case at absolutely no cost to you.